The world of marketing is constantly pivoting. But the power of a social media influencer is only getting stronger. In fact some brands are leveraging influencers as their primary form of promotion and experiencing huge brand growth.
Influencers are capable of persuading others online by virtue of their authenticity. If executed properly, social media influencers are the game changer that allows you to reach and engage an audience you didn't even know existed. One brand generated more than 100,000 clicks to their website through influencer marketing and word-of-mouth advertising.
Leesa is a luxury mattress manufacturer that sells exclusively on eCommerce. With no showroom for customers to trial the mattresses, Leesa turned to influencers to help spread the word about the brand and build trust.
People listen to people. Opinions from real people trying the mattresses proved to be much more convincing than online advertisements ever could be. The brand connected with key bloggers specializing in DIY, style spaces, and interior design. Blogs like Sleepopolis gave unbiased reviews and in-depth descriptions of the mattresses. Highlighting both the pros and cons, readers felt more confident about purchasing.
Leesa managed to generate huge click-through and conversions that were not possible before. Ultimately the brand was successful because they focused less on the influencers' followership and more on the rate of engagement.
Connecting with social media influencers sounds easier said than done. Brands that have the most success with influencer marketing are the ones that systematically pick their influencers based on a set of criteria. Big name celebrities and other individuals with huge social followings aren't the only ones making influences online. There's a ton of untapped potential when it comes to the pool of influencers. We'll help you find the best social media influencers so you can increase conversions like Leesa.
Big Fish in a Small Pond
As you begin your search for a social media influencer, think "big fish small pond." You're looking for a micro influencer. Micro influencers are the individuals online that start from a base of zero meaning they have a direct, personal connection with their audience. They have a very intimate sense of who they are and what they like which draws people to their online presence. In return micro influencers respect their audience members, creating a mutual bond.
Micro influencers are a great investment for any company but especially for smaller businesses looking to cultivate a following and generate greater brand awareness to their target audience.  These opinion shapers generally have between 1,000 and 50,000 followers. Some of these micro influencers with fewer than 1,000 followers have a like rate of about 8 percent, while influencers with up to 10,000 followers have a rate half that. As following rates increase, like rates decrease. Typically, the influencers with more than 10 million followers only generate a 1.5% engagement rate.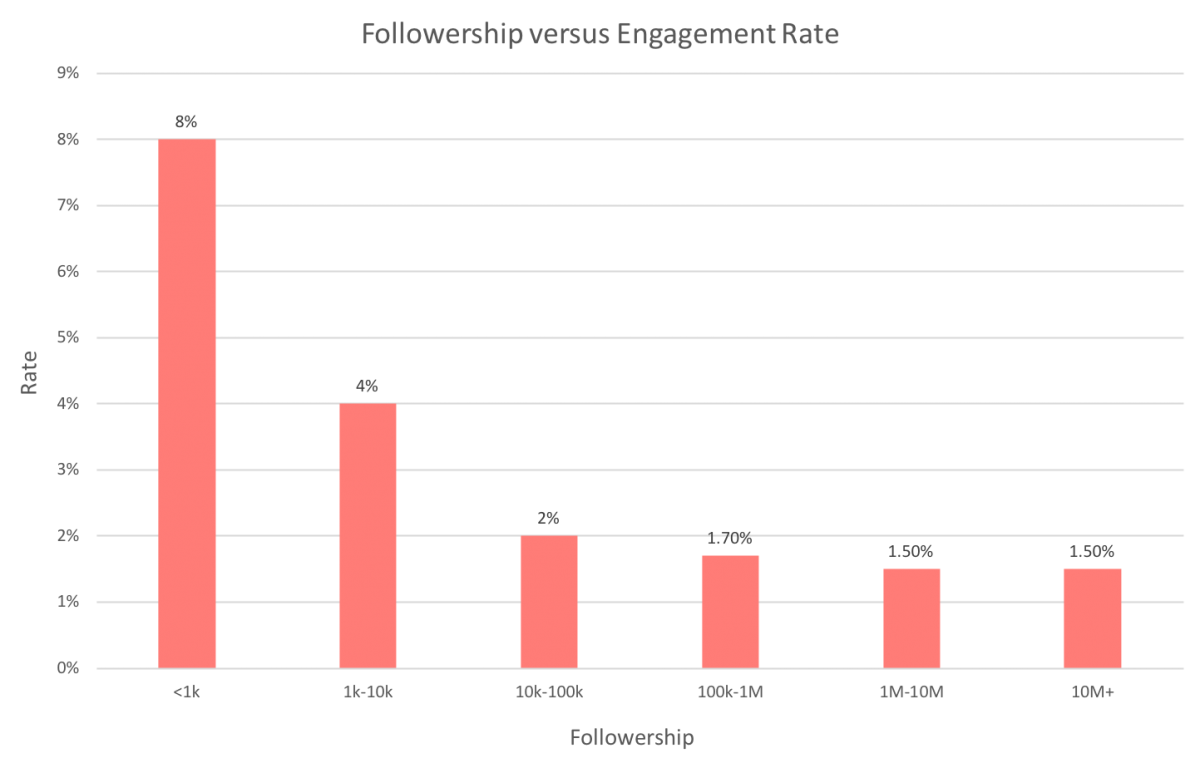 Followership is deceiving because it seems like you'd want to connect your brand to an influencer with a huge following, like a celebrity. But the reach doesn't translate into engagement. It's better to connect with influencers that make a big influence on a smaller audience (big fish small pond). They get more organic engagement on their platform due to their inherent trust. Leesa sought out bloggers with a highly engaged audience and generated more conversions as a result.
According to Jennifer Li Chiang, CEO of MuseFind, "most brands would do themselves a favor by focussing small rather midground." MuseFind helps eCommerce companies optimize their influencer marketing. The platform allows brands to find the most relevant influencer and provides a way to find out how influencers are affecting the bottom line. "Trust can be measured by engagement and in a recent report from our friends a L2inc, this shows that middling influencers are not as effective as micro or mega (7M+ followers)," says Jennifer over email.
Instagramers and Bloggers
A large number of micro influencers are on Instagram and online blogs. With so many Instagram users, you'll find influencers in different locations around the world with followers varying in demographics yet possessing common interests. If your brand meets these interests you should connect with the influencer. Online blogs are also a great place to introduce your brand to passionate audiences grouped around a focused interest. In order to make your search for a social media influencer more productive, we've made a list of 5 criteria to keep in mind.  
Criteria #1: Has an active followership between 1,000 and 15,000.
Self-proclaimed influencers with smaller followings have a more engaged and supportive audience. With a social celebrity, their huge audience is following them for a million different reasons. On the flip side, micro influencers are like a best friend to their followers. They're relatable yet persuasive so their audience develops a lasting loyalty. This is how your brand will build trust among customers if put into the hands of a trusty social media influencer.
When you're reviewing influencers that meet this range of followership, make sure their account is real and their followers are real. With all the fake accounts and bots online it can look like an influencer has an active audience but it's all generic comments.
Criteria #2: Has a personable and friendly online image.
People are naturally more engaged to people that are personable. On Instagram this looks like captions that are positive in nature and frequent responses to comments from followers. It may be more challenging to determine this criteria among bloggers so look for post shares. If people are sharing the blog, they like what they're reading and want others to engage too.  
With the same budget, you can collaborate with 20 to 40 micro influencers instead of 2 to 3 celebrities. You'll end up reaching different demographics, see better engagement, and increase those click-throughs.
Criteria #3: Has the same/similar target audience
Leesa connected with influencer bloggers like Sleepopolis, which is basically a mattress review blog. The audience, though narrow, is exactly the type that Leesa needed to target to get high conversion rates. The more focused the audience, the better engagement you'll receive. Remember people listen to people. Influencer marketing really makes a difference for your company when a "chain of influence" starts to develop. If you influence the right people, those people will become influencers on their immediate circles. Word-of-mouth is still one of the greatest forms of marketing.
Criteria #4: Genuinely likes your brand or could naturally incorporate your brand into their life and benefit from it
Brands that are really successful with influencer marketing connect with influencers that are already using the product or could really benefit from the product. Look for influencers that share the same values as your brand. If the influencer's behavior and lifestyle align with your brand values, the audience's engagement to your brand will be much stronger because the promotion will feel more authentic. "An influencer is simply an amplified version of your customer," says Jennifer CEO of MuseFind.
Criteria #5: Has a large following on a secondary social media platform.
If the blogger you're looking to connect with has also created a huge presence on Twitter, you're tapping into greater brand promotion through several different media outlets. Let's say you think Kim Garst would be a great influencer for your brand. She's attracted a huge following to her personal blog and is also active on her Twitter account where she has over 600 thousand followers. Your primary goal is to influence your brand onto her blog followers. But if she mentions your brand in one of her blogs or even writes an entire blog around your company and tweets about it, you'll reach her massive Twitter audience in addition to reaching her engaged blog followers.
Connect Face to Face
Pop up shops are another way to find influencers for your brand while also engaging with customers. These "meet and greet" events are the perfect way to find micro influencers and start a chain reaction of connecting with them. Promote the pop up shop as a special event to see the new products, offer a discount or promotional giveaway, then advertise that you're looking for influencers! Get the contacts of friends of the influencers you meet and before you know it you'll have a huge list of potential micro influencers.
Search YouTube
YouTube is a great resource for finding social media influencers. YouTube is a much more intimate platform compared to Instagram so individuals can connect with their following on a more personal level. The more personal it gets, the more trust is developed and higher rates of long lasting engagement become easier to achieve. For this reason, the followership can be larger and still engaged.
GymShark connected with individuals that had a large following on their YouTube channel and these influencers have now propelled their brand into huge growth. Whitney Simmons is one influencer for GymShark who has over a million subscribers to her fitness channel. Her video content includes her fitness journey, life in the gym, and health and beauty recommendations. Whitney was the target customer for GymShark's workout line and working with her as an influencer was the smartest marketing strategy. Now Whitney shares her personal opinions, both pros and cons, about the clothing on her videos. Her audience trusts her so GymShark gains their trust too.
Take Advantage of Online Platforms
You can pay for databases to have access to the contact information for different influencers in various categories. Innovative platforms such as NinjaOutreach or PeopleMap allow you to find Instagram influencers based on follower count, name, and location to get targeted search results. After you connect with social media influencers you can manage your leads data and stay on top of conversions.
Platforms like Brand24 will help you discover what people are saying online about your brand. You'll have access to real-time comments made about your products on multiple social media outlets so you can identify the people with social influence that like your brand.
Start Influencing ASAP
When it comes to marketing, it's a lot better to focus all your efforts on 1-2 channels rather than stretch yourself too thin. Starting a campaign with a social media influencer on MuseFind is something you should seriously consider, especially since "the average influencer marketing campaign on MuseFind sees an engagement of 3%, which compared to Facebook Ads (0.9%) and banner ads (1%) is already a huge difference in effectiveness," from a report by MuseFind.  
Incorporating social media influencers into your marketing strategy is going to bring you countless benefits:
For a small budget, you can activate several micro influencers.

You'll increase click-through and conversions.

You'll reach a variety of niche audiences that will take an interest to your brand.

Connecting with influencers on multiple media outlets will generate greater awareness about your brand.

Activate word-of-mouth advertising as a byproduct of promoting via a social media influencer.
This strategy helps both large and small businesses and is especially advantageous for eCommerce brands. People listen to people but they actively engage with the right people. Find the micro influencers that are the best fit for your brand with our list of criteria and you'll get better conversions.
Source products faster and for less with Sourcify