One of the coolest features on Amazon is the listing of best seller products. This product rank will enable you to rack up sales and bring in great organic traffic. When Amazon shoppers see the best seller label on your product, they'll feel more inclined to buy it over another product offering in your same category. It adds what we call "purchase pressure." Some buyers go straight to the best seller list just to see what's popular and there's a good chance they'll buy something they weren't even looking for.
As a seller of private label products on Amazon, you should familiarize yourself with competing products. The BSR (Best Sellers Rank) is the official ranking of the most popular products on Amazon based solely on sales. You can find these rankings on the Amazon website, but this list changes hourly so it's hard to keep track of what's popular over a long period of time.
Fortunately, our partners at Helium10 provide a handful of different tools that give you access to high ranking keywords, trends, and competing product sales so you can optimize your selling on Amazon.
To see the top 200 best selling products on Amazon in 2018, we used a tool within Helium10 called the Black Box. We gathered our list by filtering the products from low to high on BSR list. Products that are low on the BSR are ranked well (we all want to be #1 on the list). Amazon ranks their best selling products for each product category, so there are several #1 best sellers. But by using Black Box, we are able to see the top 200 best selling products without category restrictions.
We compiled information from the top 200 best selling products and uncovered some great takeaways on what they all have in common. While there are a number of different determinants of products like design, brand recognition, and more, knowing the similarities across these best selling products will help you develop a great product.
Product Category Breakdown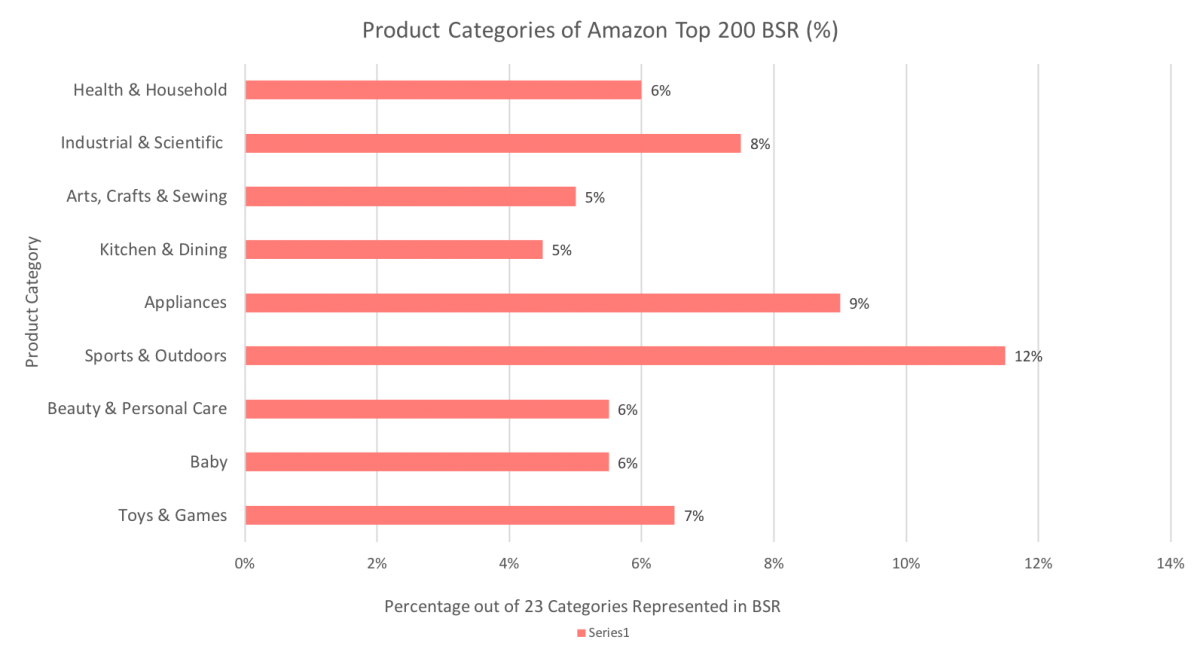 Out of the top 200 best selling products, we found that over 50% of the products came from only 9 product categories. From these top 9 product categories, Sports & Outdoors had the most best selling products. For sellers, it's important to consider the categories that shoppers are frequently searching through to buy their products. However, it's also key to see which categories are saturated with best selling products as this means it might be harder for your product to move down the BSR.

Amazon Best Seller Product Patterns
A vast majority of the best selling products look extremely similar on paper when we break down the data. Looking at this information, you should feel in control as most of these characteristics are determined when you develop a private label product to sell.
You're now probably wondering, what kinds of products are making up this data? Let's take a look at one of the best selling products in the Black Box format:
Castor Oil (16oz) USDA Organic Cold-Pressed, 100% Pure, Hexane-Free Castor Oil – Moisturizing & Healing, For Dry Skin, Hair Growth – For Skin, Hair Care, Eyelashes – Castor Oil By Sky Organics

With only one other competing seller, this product is seeing sales soar through the roof. With the price below $20 and a large amount of reviews, shoppers are making a fast purchase decision. The product is moving down the BSR list as it's sales continue to increase and recently became listed as Amazon's Choice.
The Castor Oil is generating huge monthly revenue of $538,248.70 but it's ranked 25 on the list. If we take a look at a product ranked lower on the BSR, you'll notice the sales are higher but the revenue is lower.
Aztec Secret Indian Healing Clay Deep Pore Cleansing, 1 Pound

The Aztec clay is one of Amazon's Choice products and ranked lower on the BSR list, but it's not generating the same amount of revenue because the price point is lower. Would you rather generate more monthly sales or be lower on the BSR list?
Turmeric Curcumin with Bioperine 1500mg. Highest Potency Available. Premium Pain Relief & Joint Support with 95% Standardized Curcuminoids. Non-GMO, Gluten Free Turmeric Capsules with Black Pepper

This product is ranked number 17 on the BSR for Health and Household and generates over a million in monthly revenue! The product details also line up with the common characteristics data we covered earlier: number of images, weight, number of reviews, and a top product category.
These three best selling products also have a little more in common: fulfillment method and size tier.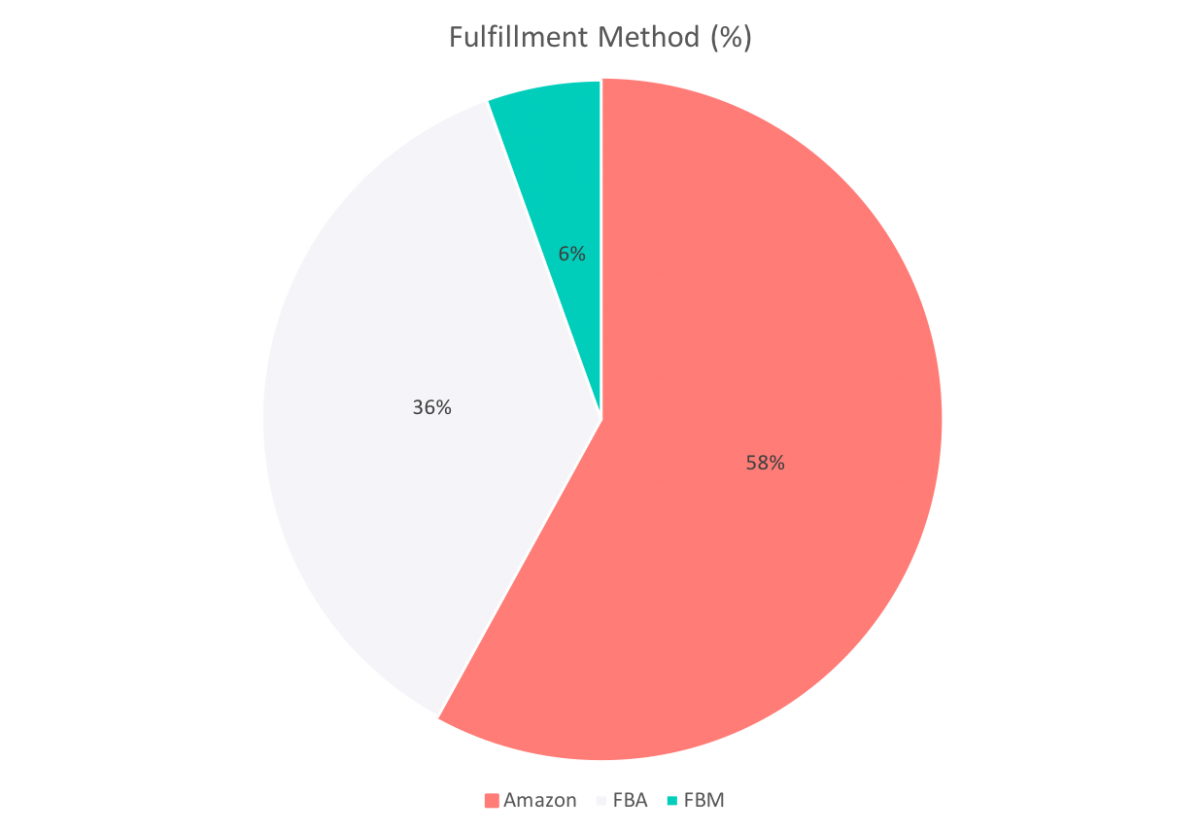 What's crazy about this chart is 58% of the products on Amazon's 200 best selling products list are also sold by Amazon. This means that out of the top 200 best selling products, the majority are sold by Amazon and third-party sellers. If you're an Amazon seller, this means you are also competing with products that shoppers could be buying directly from Amazon. Regardless of the products you're selling, FBA is almost always the way to handle fulfillment. FBA streamlines your operations and offers a handful of benefits that buyers are really attracted to, including prime 2-day shipping, which plays a huge impact on your volume of sales.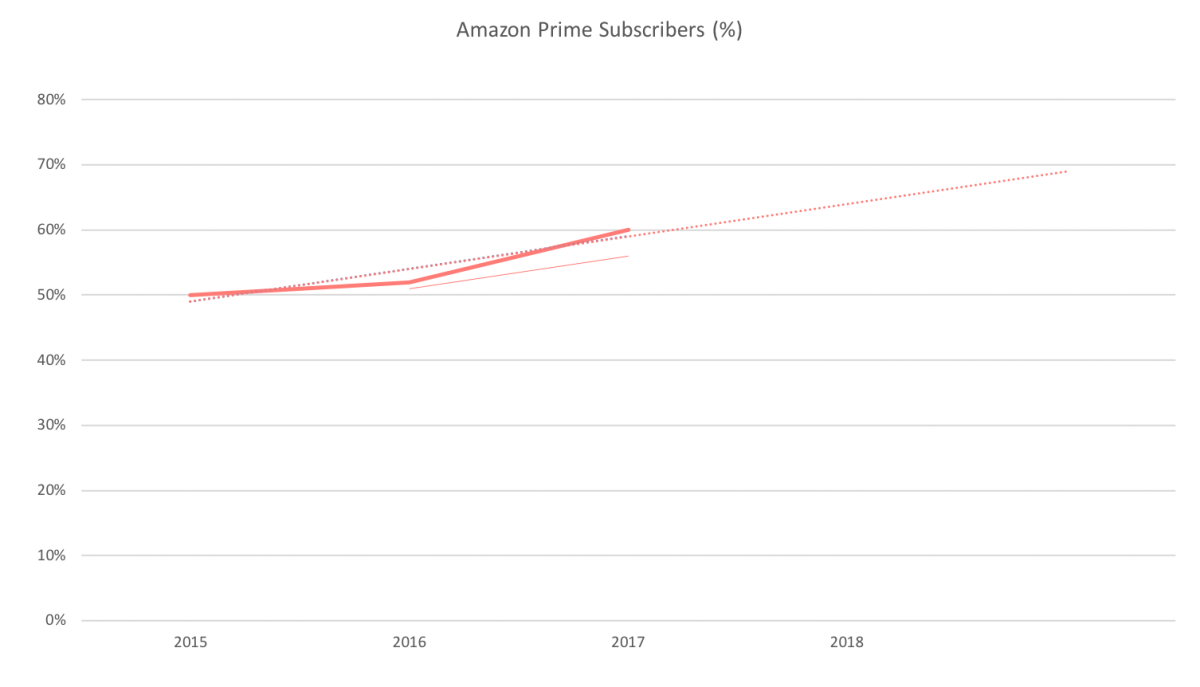 While there are pros and cons to FBA depending on your preferences as the seller and the product you're offering, it's clear that prime subscribers are only increasing. A product that offers prime shipping is always more attractive and if it's more attractive it will generate more sales, ultimately improving your rank on the BSR list.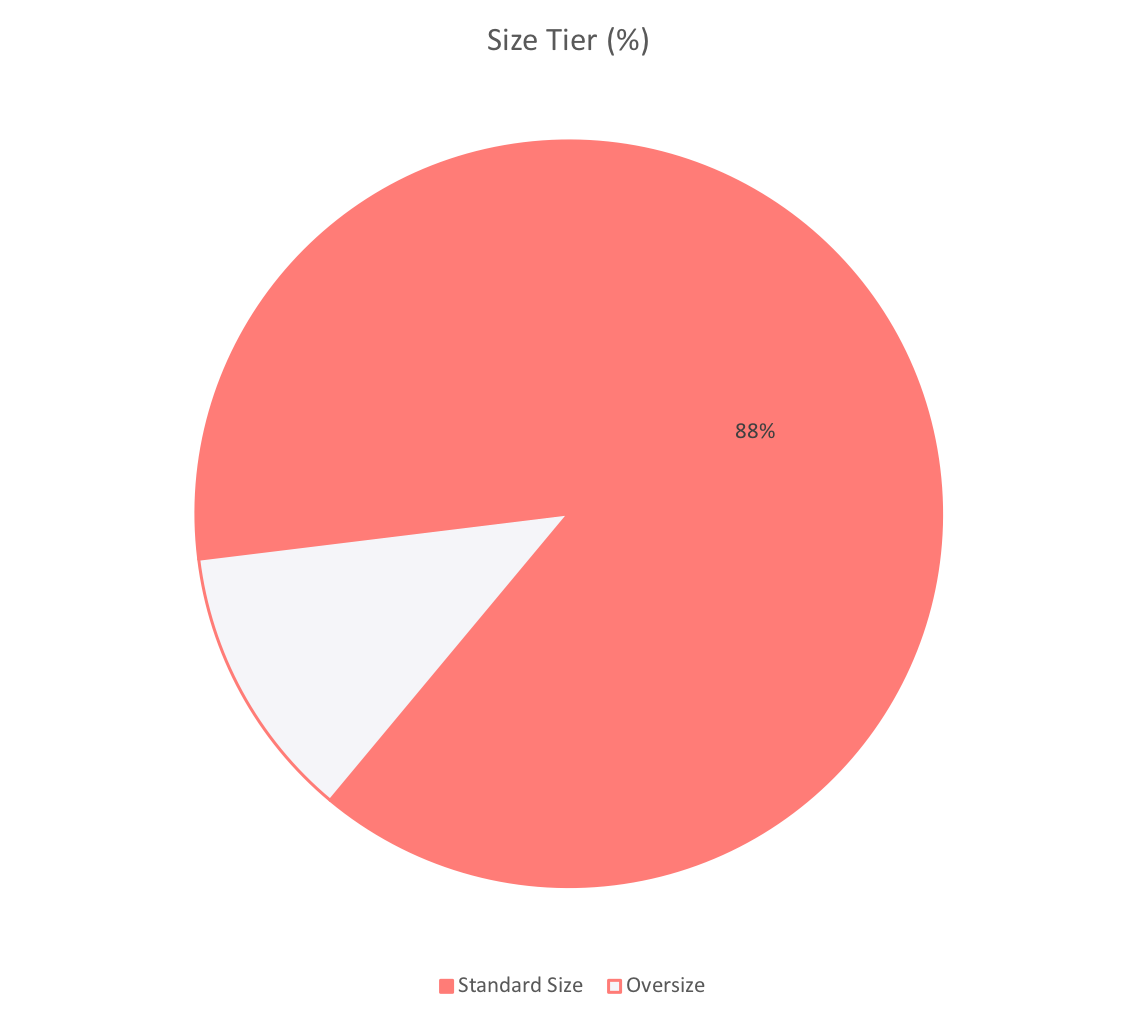 A wild majority of best selling products on Amazon are standard sizes. Amazon offers more warehouse space to standard sized products. On one hand, this means you can keep more inventory at their warehouse for less. On the other hand, oversized products often have less competition and bigger margins. It's important to remember the BSR is based on number of sales, not revenue. If smaller products are priced less, you will sell more.
The Top Takeaway
As an Amazon seller facing hundreds of other third party private label brands, it's necessary to stay up to date with the products that are selling well in your product category. Tools like Helium10, Jungle Scout, and Viral Launch compile all the relevant information regarding Amazon's top selling products that you can't find anywhere else.
Knowledge is power and having access to this data is a great way to gain a competitive advantage. Not to mention it's fun to check out what products are hot in the market. Especially if yours is one of them!
The future of product sourcing starts here