Choosing the right courier is extremely important for e-tailers, as it is the final customer touchpoint on the purchase journey.
Customers can associate the delivery experience with the retailer's brand reputation, so it's best to make sure you make a positive, lasting impression!
Making an effort to find great couriers is beneficial to your business because:
You need a reliable service to ensure your products are handled properly when in transit

It prevents you from overspending on shipping

Providing a good delivery service builds trust between you and your customers
This post will cover the differences between postal and express couriers, what you should consider as you look for a shipping provider, and the most efficient way to do your research.
Postal couriers and express couriers
Postal services (such as USPS) are normally operated by national governments. On the other hand, express couriers like FedEx, UPS, and DHL are companies that have courier networks around the world and operate globally.
In terms of pricing, postal services are simple and relatively affordable: you mostly pay for the shipping costs. But, this usually means that delivery times are longer, and depending on which country you're in, subpar service quality.
Express couriers provide fast and reliable delivery services. However, their pricing is more complex and can include additional costs such as fuel surcharges, remote area surcharges, and parcel-handling fees.
Still, these pricier offerings can provide a lot of value to your business. You should consider if it's worth paying to ensure that your product is handled correctly and gets where it needs to be in the given timeframe.
Identifying the right courier
When choosing a courier, think about your shipping goals and what you expect from them (such as speed, cost, service quality, and tracking.)
It's also good to understand which shipping solutions are better for certain countries, which couriers can import certain products, and who can process "DDP" (Delivered Duty Paid) and "DDU" (Delivered Duty Unpaid).
You should also take into account the value of your products and your customers' expectations for delivery time.
For example, if you are selling a USB cable for only $5 USD, it wouldn't make sense to use an express courier since the rates would probably cost more than the actual product itself.
In this case, it would make more sense to use the postal service. Just be sure to be upfront about the longer delivery times!
On the other hand, if you were selling pricey or valuable accessories, it would be better to use express couriers as they provide faster deliveries and better handling.
In this case, the higher cost of shipping is worth it for the peace of mind you get, rather than worrying about the risk you took from using a subpar service.

When shipping internationally, think about your target markets and research regional couriers that provide reliable services to that market. Express couriers that you may not be familiar with include Aramex for the Middle East, SF Express for mainland China, and DPEX for southeast Asian destinations.
Handling dangerous goods
If your product includes batteries, this can be a challenge as certain batteries (such as lithium ion and standalone power packs) are considered "dangerous goods" for couriers.
Certain couriers can charge extra for this, so keep in mind that cheaper options may not be available to you.
Also, not all shipping companies have the certifications required to ship these kinds of goods, so this is something you should ask potential couriers when you are getting quotes.
It's also worth asking what the courier's shipping limits are for dangerous goods (and these change often).
How to research couriers efficiently
With hundreds of shipping companies around the world, the idea of comparing multiple couriers sounds like a very manual process. Luckily, there is a tool for this!
Easyship is a platform that helps you ship worldwide. Think of it as the Skyscanner of shipping – to get a quote, all you need to provide is your destination country, item category, weight, dimensions, and customs value.
Press a button and voila! You get a list of all the available solutions for your destination country, sorted by the cheapest, fastest, and best value for money options. You can also see details such as tracking service, customer ratings, and taxes and duties.
Now you can avoid going to every courier's website, entering the same information repeatedly, and setting up a spreadsheet to compare prices.
Here are some available solutions from the United States to Hong Kong: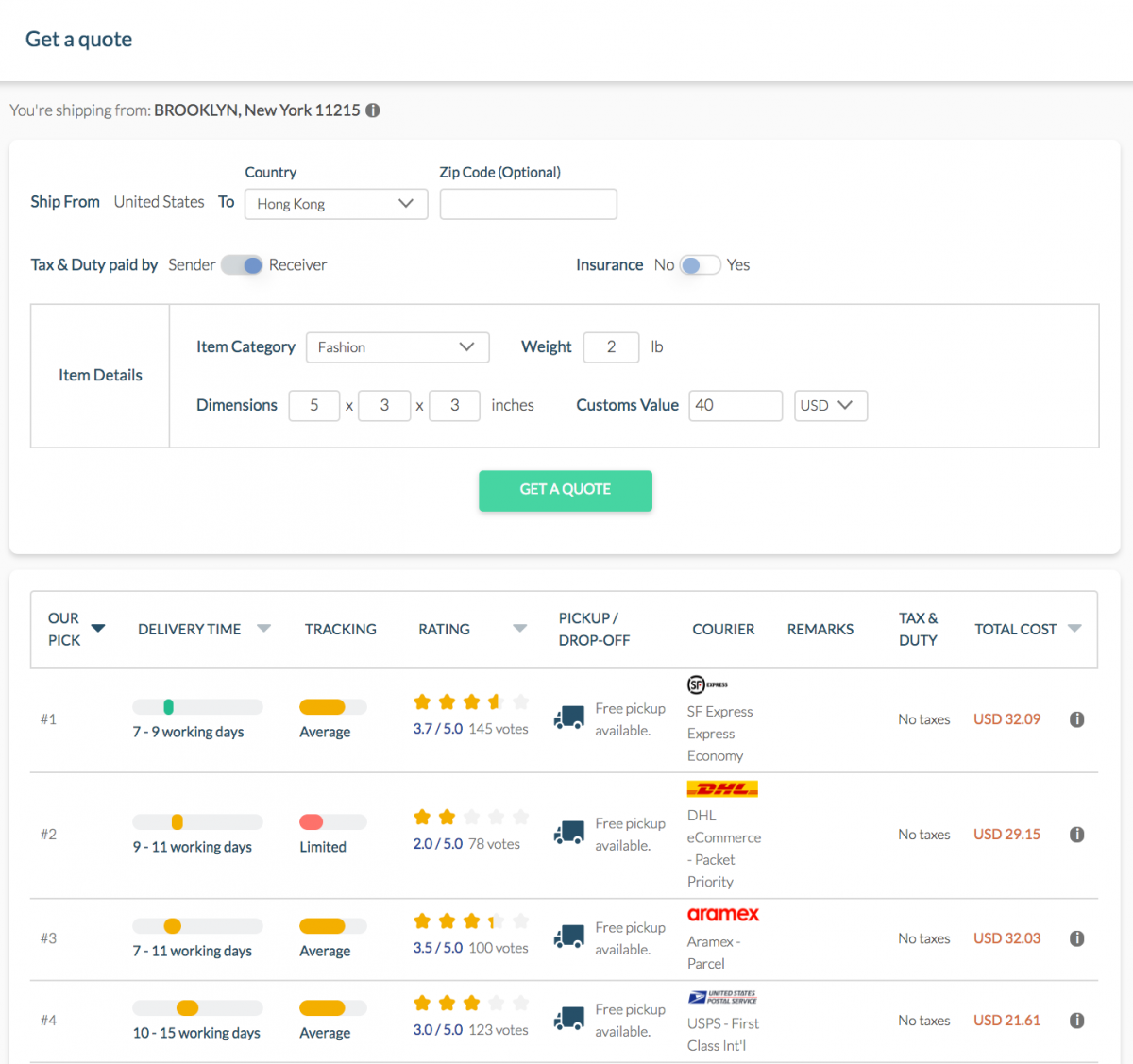 As you can see, the number one pick happens to be SF Express, the regional courier mentioned earlier, which has an extensive network in mainland China and Hong Kong.
For more rates, visit Easyship's rate calculator.
Conclusion
Taking the time to research multiple couriers is beneficial for your business. It gives you the opportunity to find optimal solutions that not only save you money, but provide the best service to your customers. By taking a customer-focused approach to shipping, you will exceed the customer's expectation to deliver and encourage their loyalty.
The future of sourcing starts here